For enrollees
Dear boys and girls!
If you are interested in foreign languages, if in the future you imagine yourself as a professional translator, in demand by specialists in the field of modern information technology, you want to find an interesting job after graduation, to realize yourself, then - come to us!
At the Department of Translation and Foreign Languages ​​you will gain a thorough knowledge, will be able to undergo translation practice at the best companies in the city, conduct research, participate in international conferences and projects. With us, you are guaranteed to receive excellent language and translation training, master modern information and technical tools in the field of translation, in particular, master the skills of machine and automatic translation, computer graphics and web-design, etc.
Friend, the choice of profession is the first independent and very responsible step in life, so it must be right!
If you want to find out where our graduates work, what heights they have reached, to hear their impressions of study and work, visit the link: https://nmetau.edu.ua/ua/mdiv/i2016/p2981.
Interested in the history of the department, welcome to https://nmetau.edu.ua/ua/mdiv/i2016/p421.
If you want to know about our teachers, look here https://nmetau.edu.ua/ua/mdiv/i2016/p-2.
Click on the following links if you have any questions.
list of documents for admission, conditions of enrolment https://nmetau.edu.ua/ua/mabitur.

training fees https://nmetau.edu.ua/ua/mabitur/i7/p2246

There is an intention to familiarize yourself with the programs (syllabuses) of the disciplines, click here https://nmetau.edu.ua/ua/mdiv/i2016/p3488.
If you want to learn more about the speciality "Philology (Germanic languages and literature, translation inclusive)", see here: https://nmetau.edu.ua/ua/mdiv/i2016/p-1/e54.
Did you know that translator is one of the oldest professions, which became necessary as soon as national languages appeared? Do you remember the biblical story about the Tower of Babel, about how helpless people became without understanding each other?
Do you want to know what is closer to you personally - to translate or to interpret? Choose, come, become a real professional translator, a specialist in the field of applied linguistics and translation, and we will be happy to help you with this!
---
Images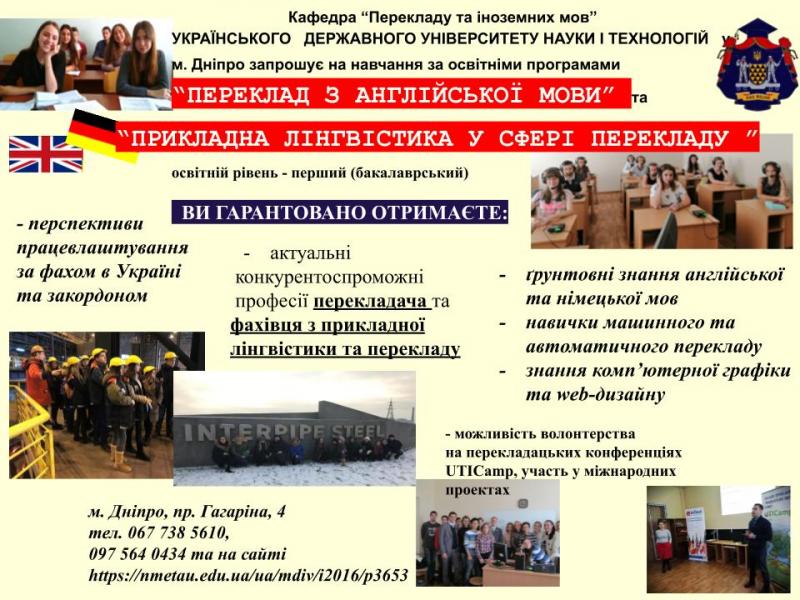 ---